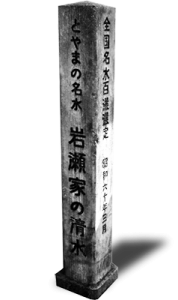 Sake is only made with rice, yeast, water. So, purity of water is important.
Mikunihare is located in a town which is famous for Meisui. (Meisui is the finest water Ministry of the Environment of Japan selected)
Melted snow in Northern Japan Alps with 3000 meter high raised mountains drops into ground. It springs up in our factory after long time.
Mikuni-Hare is the only sake brewery Meisui springs up in Japan.