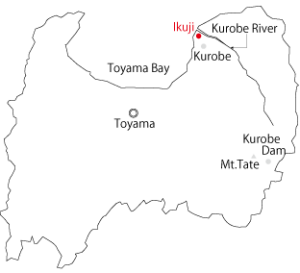 Mikuni-Hare is located in Kurobe-city, Toyama at the mouth of Kurobe riber, started brewing Sake in 1887, having more than 120 years of history.
Surrounded by beautiful Japan sea in front and high raised Northern Japan Alps mountains in the back, we only use pure spring water, which is said running through underground of high mountains for 100 years.
We brew sake with new technologies, but also historical techniques we keep for more than 100 years. Our product concept is to produce tasty casual sake for everyday.
◆About visiting our factory
If you are interested in visiting our factory, send a message with date(s), time(s) and number of visitors. We will back to you.
Mikunihare Syuzo Co.,Ltd.
296 Ikuji Kurobe-shi Toyama-ken Japan  938-0066 map